Crestline Safety Information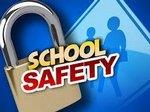 The safety of your children, our students, is a priority here at Crestline, and we need your help with a few procedures.
Door Safety

Hartselle is a small southern town where hospitality and courtesy is the way of life. Therefore, we are asking that for the safety of our students, parents and visitors do NOT open any outside doors to allow anyone into the school building. Our buzz-in entry system is designed to help provide for the safety of our students. In addition, when exiting the building at the front of the school, please exit using the doors closest to the library, this allows people waiting for entry to be buzzed into the school.
Visitors

To help keep your child safe, there are guidelines that we ask you to follow when you come to school. They are as follows:

School entry is controlled by a buzz-in entry system. NOTE: The camera is to the left of the doors. Please make sure that your hats or hoods are not covering your face so we can identify you.

All visitors need to bring their driver's license, report to the office and sign in prior to visiting any location on campus and sign-out upon leaving campus.

Your visitor's pass must be worn in a visible location.

If lunch is the reason for your visit, please say good-bye to your child at the lunchroom. Do not accompany your child back to their classroom.
Morning Arrival Information

In the mornings, school opens at 7:15 and the office opens at 7:30. Please remember that students dropped off prior to this time are unsupervised. Breakfast is served between 7:15 and 7:30. Parents are welcome to come and eat with their child. Students arriving between 7:15 and 7:30, who do not wish to eat breakfast will wait in on one side of the lunchroom for classroom dismissal at 7:30. Students arriving between 7:30 - 7:50 and wishing to eat must pick up Grab & Go breakfast in the lobby before heading to class. Grab & Go breakfast is something that can be eaten at their desks while they are working on their morning work.

Morning Drop Off Lane Procedures

In the drop off lane, we unload about 11 cars at a time - Awning to Awning.

When your car stops in line near the awning, your child should exit the car on the passenger side.

We have teachers stationed along the way to make sure they get in the building.

If there are no cars in front of you, be sure to pull all the way to pole 1 to unload.

In order to use this lane, children should be able to exit the cars by themselves, as parents need to remain in the car.

Please do not wait to drop off your child in front of the doors, as this slows the drop off line and creates a safety problem.

Please do not pass cars in the traffic lane.

Library Parking Lot Procedures

The parking lot in front of the library is for Pre-School and Special Needs Drop Off only.

Parents wishing to drop off in the Library Parking Area, must park and walk their child to the sidewalk.

Afternoon Dismissal Procedures

Please remember that all changes in ways students go home must be sent to the office prior to 2:30 each day. Students bringing notes are directed to bring those after they have shown them to their teacher each morning. In the event you need to change your child's way home during the day, you may run a note by the school or fax a note to the school office with a copy of your driver's license (256-751-5656). Please make sure the note or fax is at school no later than 2:30 PM.

Our afternoon car rider procedure is running smoothly. If you do not have the card, you will be asked to park and show your ID in the office to pick up your child.

We try to load 5 cars at a time and use poles #1, #3, #5, #9 and #11.

Please keep your car sign in the window until after your child is picked up. We call numerous times.

We ask that you stay in your car and we will call the child to the correct pole.

If you see them trying to get to you at a different pole, please encourage them to go to the pole you are to meet them.

In order to be able to pick up your child in this lane, we ask that your child be able to enter on the passenger side by themselves. You need to remain in the car.

In the event they must enter on the driver's side, please make sure they always walk in front of your car, so you can keep your eye on them.

Please remind them to stay on the sidewalk until you have come to a complete stop.