Return to Headlines
Congratulations to Barkley Bridge teacher, Angie Harris, on her nomination for the LifeChanger of the Year award!
From the National Life Group website: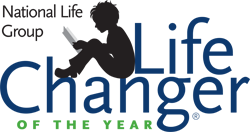 "We all know at least one educator who stands out from the crowd. There are millions of teachers, principals, administrative assistants, superintendents, custodians, nurses, bus drivers and coaches in our schools making a difference in the lives of our children.
LifeChanger of the Year is an annual program funded and run by National Life Group and the National Life Group Foundation that recognizes and rewards K-12 educators and school employees from around the country. A LifeChanger could be a math teacher who stays after school to tutor struggling students, a guidance counselor who encourages every student to reach their full potential, or a custodian who offers encouraging words. Our program aims to honor those who are making a significant difference in the lives of students by exemplifying excellence, positive influence and leadership.
Each LifeChanger winner and his or her school is awarded with cash prizes, including a top cash prize of $10,000."
Click here to read the full article about Mrs. Harris.