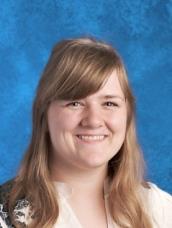 Phone: 256-773-2411
Email:
Degrees and Certifications:
Bachelor of Science in Elementary Education: Auburn University
Miss

Elizabeth Wiggs

I'm Miss Elizabeth Wiggs, and I'm excited to teach a fabulous class of first graders this year at FEB! I graduated from Auburn University with a bachelor's degree in Elementary Education, and have been teaching since 2015. My favorite thing about teaching is seeing curiosity - finding questions and puzzles that are as delightful to ask as they are to answer. I love learning along with my students and from them as well. Even though I'm not originally from Hartselle, it is my home. I am from the small town of Houston, Mississippi, which is about midway between Starkville and Tupelo, off the atchez Trace. After college at Auburn University, I moved to Hartselle and bought a small house that I share with my dog, Miss D. She is a beagle mix who loves to take walks and play fetch. I also have a foster-cat named Alex, who loves to eat, sleep, and ask for tummy rubs. My house, like my classroom, is full of plants and books. I love to read. I enjoy fiction, especially fantasy and historical fiction, as well as books that help me prepare to be a better teacher. Science is my favorite subject to teach.

As a teacher, I believe:
every day and each child is a gift

learning is a process, and growth takes both hard work and time

attitude, behavior, and effort are choices for both me and my students

exploration and curiosity are the keys to discovery

students learn in different ways and have different needs

Education matters because it takes skills that are necessary for life. Reading, writing, computer literacy, math, social studies, and science teach children to understand the world around them and equip them to build their lives within that world.
If you would like to know what books I am looking for to use in our classroom, check out my amazon wishlist. I am glad to take used copies or yard sale copies, as long as they are not marked in with crayons or markers. =)