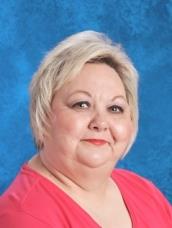 Phone: 256-773-9967
Email:
Degrees and Certifications:
Mrs.

Martha Eaton

I grew up in Somerville, Alabama. I attended Priceville School through 9th grade. I am a 1976 graudate of Brewer High School. I have four brothers and one sister. My first job after high school was at GTE Automatic Electric in Huntsville. I have also worked at J.C. Penney, Piggly Wiggly, and also for a law firm in Decatur.

I am married to Brent Eaton, a 1973 Morgan County High/Hartselle High School graduate. We have two daughters, Bridget and Brittany, and one son, Dusty. All three are graduates of Hartselle High School. We have four precious grandchildren.

I chose to leave the workforce and be a stay at home mom when my son was born in 1986. I re-entered the workforce when my youngest child was in 2nd grade. I became a volunteer and homeroom mother at Crestline in 1989. I was very active in PTO for and I worked as a substitute teacher for over 5 years before becoming an Instructional Assistant in 1998. I worked for 12 years in the school library as librarian assistant to Ms. Julie Hall. I now have the privilege work with many students in Special Services as an Instructional Assistant.

My family and I are members of West Hartselle Baptist Church where we are actively involved. I love spending time with my family and going on trips to the Smokey Mountains together. I so LOVE being a GRANNIE!

I am an ALABAMA Fan! Roll Tide!! My husband was a big Alabama Fan when we married and I learned very quickly to love football and which team to support!