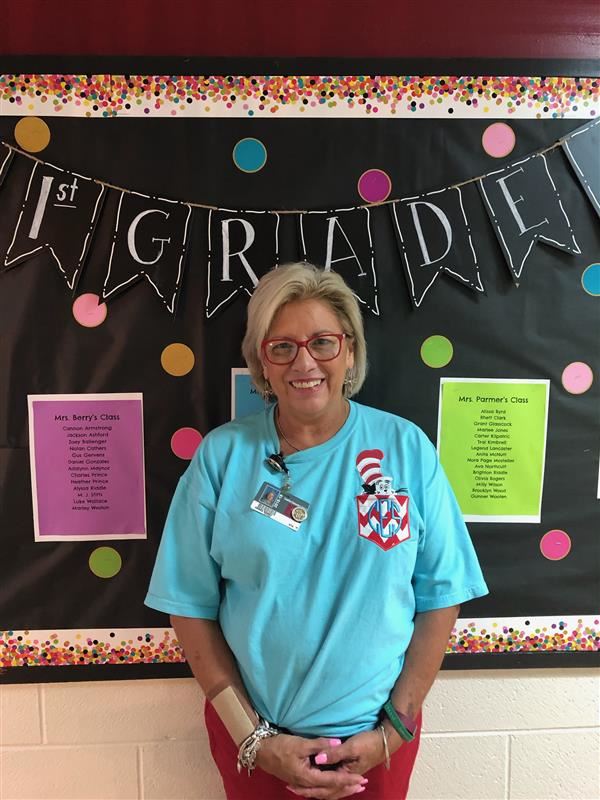 Phone: 256-773-9967
Email:
Degrees and Certifications:
BS Elementary Education,1994 Athens State University, Athens, AL
Mrs.

Debra Berry

My name is Mrs. Debra Berry and I teach 1st grade at Crestline Elementary School. I am starting my 26th year at Crestline. I taught 2nd grade for 22 years and this is my 4th year to teach 1st grade.

My husband's name is Keith and we have been married for 32 years. He works for Browns Ferry as a Training Instructor. We have two sons, two daughter-in-laws, three grandsons, and two dogs. My oldest son is Kris and he is an environmental engineer for the state of Alabama. He is married to Kallan and they have two handsome boys named Beckett and Banks. They live in Auburn, AL. My youngest son is Zach and he is a Doctor of Veterinary Medicine. He is building his own vet. clinic in Priceville. His wife is Jenna and they live in Priceville. They have one handsome boy named Wells. I am very blessed with a loving family and I am very proud of all of them.

I was born in Cheyenne, WY, but moved to Alabama when I was in the 5th grade. I lived in Cullman and moved to Hartselle when I was going into the 7th grade. I was one of the students to attend 8th grade when the Junior High was first built. I graduated from Morgan County High School in 1974. I earned my BS degree in Elementary Eduacation from Athens State College in 1994. I went to work for Hartselle City in 1994-95. I have been blessed with one job and one location.

I enjoy reading, gardening, watching Auburn sports, dogs, and playing with my grandsons. Also, I love teaching!

I learn something new everyday. It may be about first graders, new words, or life in general. I feel if you open your mind to new things there is a variety of changes you might do or need and lots of new information you can absorb.

I am a Christian and give credit for my many blessings to God. Without him life would be tough. I try to follow His word daily. I try to set a good example by following and doing what He asks.

If your child is in my classroom I will do my best to teach, guide, and love them.